Our theme for the summer is "Join the Adventure!" If we are walking the Way of Love as Jesus taught, then it is truly an adventure. We are called to embrace new challenges and to think in new ways and to engage folks who are different from us. It can be difficult at times, but the abundant life that Jesus promises may be found only when we join the adventure!
As Jesus called the original disciples to "come, follow me," so also does he say to each of us, "come, join the adventure!" At St. John's we plan to do just that, and we hope you join us!
SUMMER WORSHIP SCHEDULE
Sunday
8AM | In-person & Livestream Holy Eucharist
10 AM | Outdoor Holy Eucharist (In-person, Churchyard)
Monday & Friday
8:30 PM | Compline (Click here for Google Meet Login)
Tuesday & Thursday
8 AM | Morning Prayer (Click here for Google Meet Login)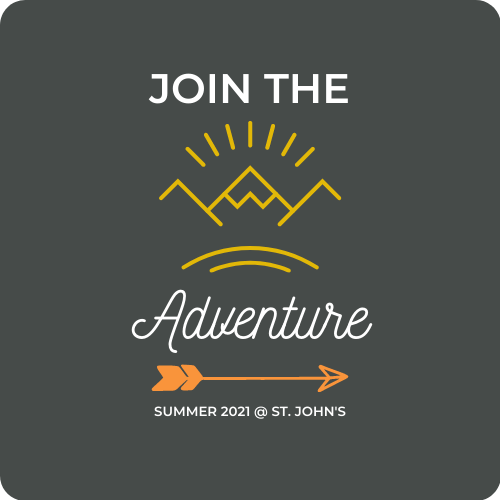 Click on an icon below to learn more!
BACKYARD BIBLE STUDY
This summer we are offering Bible studies for both men and women that we are calling, Backyard Bible Study. We will meet for 5 weeks and will be discussing in depth the third chapter of the book of Colossians. Indeed, we will be encouraging all those who join us to actually memorize the entirety of Colossians 3. Why? Colossians 3 is an amazingly rich passage that describes a complete picture of what a faithful life in Christ might look like. We will be using the book, Hidden in Christ: Living as God's Beloved as the foundation for our conversation about Colossians 3.
We ask that participants commit to all five sessions of the study.
The Men's Backyard Bible Study will be led by Fr. Art and will meet in his backyard at 5:30 PM on five consecutive Wednesday nights: August 11, 18, 25 and September 1, 8.
The Women's Backyard Bible Study will be led by Sylvia Lovett Tuesday mornings at 10 AM every other week: June 8, 22, July 6, 20, and August 3. 
Our Backyard Bible Studies promise to be fun and enriching, and we do hope that you will consider joining us!
CONTACT:
Father Art, [email protected]
Sylvia, 612-710-5901 or [email protected]
PET PARADE
Sunday, July 11 | 12 noon
Come celebrate the furry and not-so-furry non-human members of our families! This is THE annual occasion when you are invited to join your pet(s) in a parade up and down beautiful Clark Avenue. The parade will begin and end in the church yard of St. John in the Wilderness Episcopal Church. When the parade has concluded, there will be the opportunity for your pet to be blessed by one of the St. John's clergy. This promises to be a joyous way to conclude Manitou Days!
WILD JOHN CLUB
Join the Wild John Club! Each 2nd and 4th Monday in June, July and August, Father Art and other adventurous souls will gather at Matoska Park along the shores of White Bear Lake to paddle together. Canoes, kayaks, paddle boards, or any other muscle-powered crafts are appropriate. Weather permitting, we will meet at 5:30 pm and paddle for no more than an hour and a half. If you would like to participate, but don't have equipment, contact Fr. Art as we have extra equipment for you. Come enjoy God's creation on White Bear Lake! Come enjoy fellowship with your friends from St. John in the Wilderness! Come and be a part of the Wild John Club!
Save the dates: June 14, June 28, July 12, July 26, August 9, August 23.
CONTACT:
Father Art, [email protected]
RED CROSS BLOOD DRIVE
This summer St. John's will host two Red Cross Blood Drives in our Parish Hall. Each Blood Drive will run from 1pm – 7pm and volunteers are always needed!
BLOOD DRIVE DATES
Wednesday, July 28, 2021
Monday, August 23, 2021
If you are interested in volunteering or have questions, please contact Margaret Thor, [email protected]
BOUNDARY WATERS CANOE TRIP
August 2 – 5, 2021
Needing an escape from the zoom meetings, news, and screens? We are headed back to the Boundary Waters! John Brunner is the trip leader this year and brings along years of experience paddling, fishing and portaging. The selected route begins on Snowbank Lake and includes cliffs, bogs, and, of course, lots of wildlife! Experience isn't necessary, and being in good physical condition will make the trip enjoyable. Most equipment is provided. To secure your spot and help cover permit costs, a deposit of $100 is required. Only nine spots are available to men or women, so sign up soon!
CONTACT:
John Brunner, [email protected]
CHILDREN & FAMILY
Rona, our Director of Children's Christian Formation, has a fun summer planned for the children and families at St. John's! CLICK HERE for more information on what to expect this summer! All are welcome to Join the Adventure!
SPEAKING FREELY
One of the greatest strengths of the Episcopal Church is our willingness to be honest with each other. Episcopalians not only tolerate differences of opinion, we embrace and cherish them. We are a Church that appreciates that telling our truths with compassion for each other is one form of loving our neighbor. We believe that when compassionate truth-telling happens, the Spirit of God is present. It is with that intention that we offer a new summer speaker series at St. John in the Wilderness. We are calling it Speaking Freely. We hope you will join us for honest talk about important issues facing our world each Wednesday at 7:00 pm from June 30 through August 4.
June 30: Perspectives on Policing
July 7: The Challenge of Immigration
July 14: Micro-Aggression: What Is it?
July 21: Respect for Sacred Ground
July 28: The Church: Welcoming or Affirming
August 4: Climate Change: What Can I Do? What Can We Do?
**Speaking Freely will meet on the Front Churchyard and is open to our Parish family as well as the wider community. Bring a chair and invite a friend or neighbor. All are welcome as we talk about these important issues.**
ALL PARISH CAMPING
August 13 – 15, 2021
We have two group sites reserved at William O'Brien State Park. Bring your tent and spend the weekend with your parish family in recreation! Have an RV? Reserve your own spot in the regular campground and come join everyone at the group site during the day! Swimming, canoeing, fishing, singing around the campfires. We will end with outside Eucharist for everyone on Sunday morning. Come for just the day or stay all weekend! All are welcome!
RSVP: If you plan to attend, please CLICK HERE to complete the RSVP form so we know how many people to expect for the weekend!
CONTACT:
Carrie Thomas, [email protected]
YOUTH & YOUNG ADULTS
Carrie, our Director of Rising Generations, has a fun summer planned for the youth and young adults at St. John's! CLICK HERE for more information on what to expect this summer! All are welcome to Join the Adventure!